I started working on my first Prototype of Perseus (V0.81) board. A development platform I am building which combines the power of Coldfire MCU along with the capabilities of a Spartan6 FPGA.
Here are my first photos during the board assembly and test.
First assembled the switching power supplies (input 9V-18V ac/dc).
Then added the microcontroller (Coldfire MCF52258).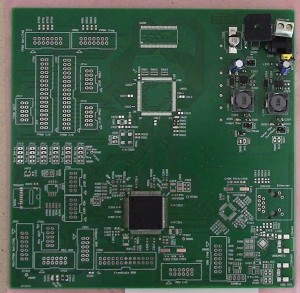 Then added the FTDI USB to serial converter.
The MCU was tested along with a port of FunkOS R3 RTOS.
Assembling all the parts the board was concluded with the FPGA and its SDRAM.
The live board running the FunkOS flashed the LEDs passing the basic burn in test of the components (no critical errors).
Hardware was complete… almost; he he no FPGA code yet.
And more important: much firmware to write for controlling all these peripherals (USB, ethernet, SD card etc).